Casting Source reaches casting procurement decision-makers and design engineers requiring castings of every alloy, size and application.
Our audience consists of the following:
A qualified North American and worldwide audience reached through a print magazine and our new, improved castingsource.com. 
Mobile readers, with mobile friendly site design and digital magazines for all platforms.
Targeted webinar and email audiences tailored to specific areas of expertise and interests.
Bi-monthly e-newsletter audience of more than 11,000.
INDEX
GET STARTED
Contact your advertising sales representative today for details on how best to reach North American buyers and designers of cast metal components with your advertising message.
David Kathe, dkathe@afsinc.org

Click Here for the 2022 Casting Source Editorial Calendar.
Click Here for the 2021 Casting Source Editorial Calendar.
Click here for our advertising pricing and specifications.
The following great companies have two things in common. They buy castings and they read Casting Source. There is no better way to deliver your message to these casting buyers than advertising in Casting Source. 
| | | | | | | | |
| --- | --- | --- | --- | --- | --- | --- | --- |
| 3M Company | Aerojet Rocketdyne | Agco Corp. | Allison Transmission | Alstom Inc. | Arctic Cat Inc. | Atlas Copco | Baldor Electric Company |
| Boeing Co. | Borgwarner Turbo Systems | Brunswick Corp. | Cameron | Carrier Corporation | Caterpillar Inc. | Cessna Aircraft Co. | Comptec Inc. |
| Crane Aerospace | Crane Pumps & Systems Inc. | Crown Equipment Corp. | Cummins Inc. | Dana Corp. | Delphi | Delta Faucet Co. | Detroit Stoker Co. |
| Dezurik Inc. | Donaldson Company Inc. | Dresser Rand Co. | Dwyer Instruments Inc. | Eaton Corporation | Elgin Sweeper Co. | Emerson | Emerson Power Transmission |
| Emerson Process Management | Federal Mogul Corp. | Fiat Chrysler LLC | Ford Motor Company | Freightliner Inc | Gardner Denver | GE | GE Aviation |
| GE Energy | GE Healthcare | General Dynamics Corp. | General Electric Company | General Motors Corp. | Georgia Pacific | GE Transportation | GKN Aerospace |
| Gorman Rupp Co. | Goss International | Goulds Pumps LTT Industries | Gulfstream Aerospace | Haas Automation Inc. | Haldex | Halliburton | Hamilton Sundstrand |
| Harley Davidson Motor Co. | Harsco Rail | Hendrickson | Honeywell Aerospace | Honeywell Inc. | Hubbell Inc. | Ingersoll Rand | Jet Propulsion Lab |
| John Deere | John Deere Dubuque Works | Johnson Controls Inc. | Kenworth Truck Co. | Lockheed | Lockheed Martin | Lycoming | Maxon Lift Corp. |
| Medtronic | Mercury Marine | Meritor Inc. | Mitsubishi Electric Power | Modine Mfg Co. | Monroe Truck Equipment | Moog Inc. | Mueller Co. |
| NASA | Naval Surface Warfare Center | Navistar Inc. | Northrop Grumman Corp. | Oshkosh Corporation | Osram Sylvania | Paccar Inc. | Parker Aerospace |
| Parker Hannifin Corp. | Pentair | Polaris Industries | Pratt & Whitney | Raytheon Company | Regal Beloit Corp. | Rexnord Corp. | Robert Bosch LLC |
| Rockwell Automation | Rockwell Collins | Rolls Royce Corp. | Sandia National Labs | Seating Concepts Inc. | Siemens | Spacex | Spirit Aero Systems |
| Spx | Sulzer Pumps | Tenneco | Textron Inc. | The Timken Company | Thomas & Betts Corp. | Toro Co. | United States Navy |
| Us Army | Us Army Corps Of Engineers | Volvo Penta | Warren Pumps | Waterous Company | Whirlpool Corp. | Woodward Inc. | W S Darley & Co. |
| Zimmer Biomet | Zoeller Company | Zurn Industries LLC |   |   |   |   |   |
VEHICLES FOR ADVERTISING
 We provide many choices for advertising in print, online and digitally:
Casting Source print and digital magazines.
Casting Source special publications: Casting Source Directory and Metalcaster Prospectus.
Casting Source website, www.castingsource.com.
Casting Source e-newsletter.
Lead generation through sponsored webinars.
Turnkey targeted email blast and direct mail programs.
Custom publishing opportunities including reprints of feature articles.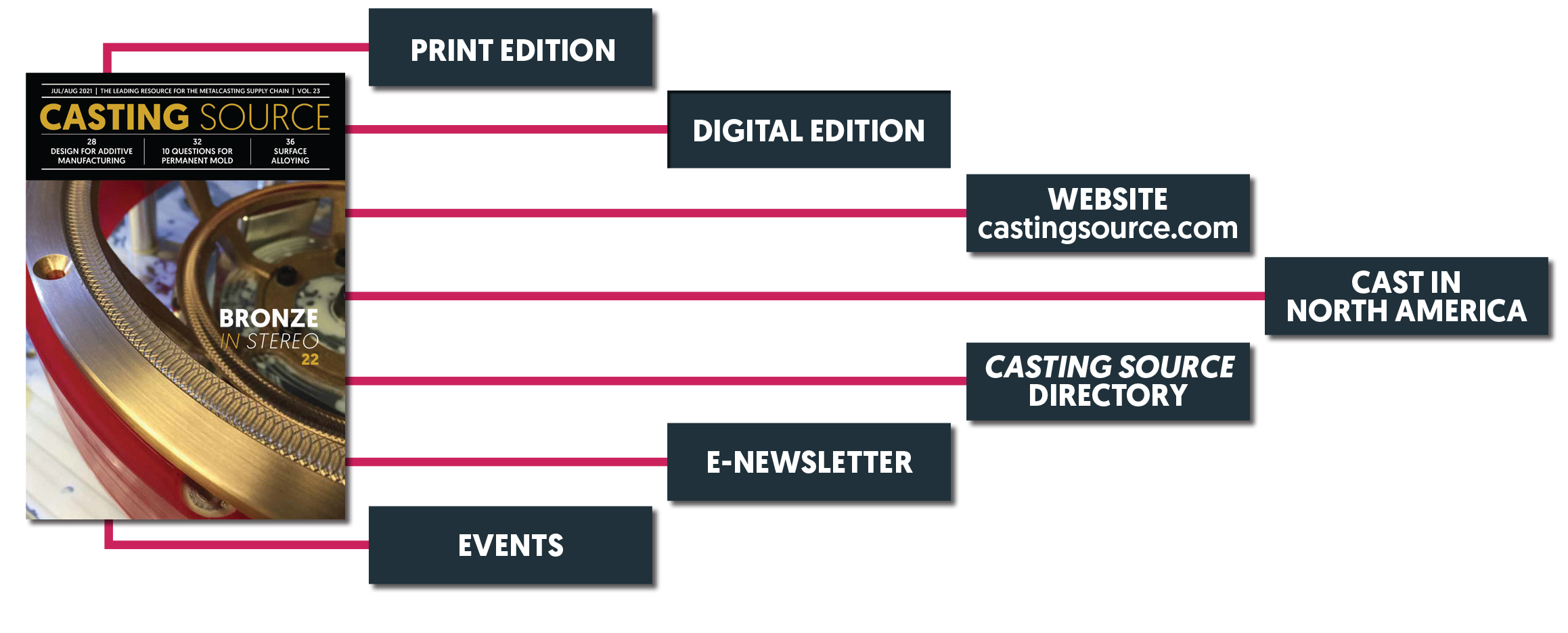 WEBSITE DISPLAY ADVERTISING
CastingSource.com is the only website providing content exclusively for an audience of casting designers and buyers. Inventory is limited to 10 ads in rotation per position. Current site metrics are available upon request.
ONLINE DISPLAY RATES (RATE OF SALE)
| | | | | |
| --- | --- | --- | --- | --- |
| AD SIZE | 1 YEAR | 6 MONTHS | 3 MONTHS | 1 MONTH |
| LEADERBOARD (728 x 90) | $750/mo | $940/mo | $1,130/mo | $1,230/mo |
| SIDEBOARD (300 x 250) | $560/mo | $740/mo | $920/mo | $1,000/mo |
VIDEO ADVERTISING OPTIONS
OPTION ONE: EMBEDDED VIDEOS IN DIGITAL EDITION
Bring your products to life by embedding a video into your ad in the digital version of the magazine. All ads that appear in the print issue of Casting Source also appear in the digital edition.

Rate: $600 per month content marketing

OPTION TWO: FOUNDRY VIDEO CENTRAL

Foundry Video Central provides casting buyers, designers and specifiers with one-stop access to informative videos from some of North America's premier ferrous and nonferrous foundries.

Video placement on Foundry Video Central is in random order each time a visitor comes to the site. You never need to worry that your video is getting pushed permanently to the bottom of the page.

RATE: $1,200 per year
DIGITAL EDITION
Accessible through desktops and mobile devices, the digital edition of Casting Source matches the look and feel of a printed magazine. Readers see the same pages as the print edition and can flip through in a similar fashion.

For additional impact, a popular option for advertisers is embedding a video into the digital version of their print ad.

Discounts for long-term commitments and cross-platform ad packages are available.
| | |
| --- | --- |
| Video embedded in existing ad | $600/issue |
| Two sided digital page inserted | $1,700/issue |
| Full page opposite front cover | $,1900/issue |
e-NEWSLETTER
With an opt-in distribution of over 7,000 and strong open rates, Design Line is an important information source for the casting buying and designing audience and coincides with the publication of the newest issue of Casting Source. Inventory is limited to three sideboard ad units and one in-line text ad per issue.

SCHEDULE: January, March, May, July, September, November

DEADLINE: THE 1ST OF PUBLICATION MONTH 
| | | | | |
| --- | --- | --- | --- | --- |
| AD RATES PER MONTH | 12x | 6x | 3x | 1x |
| PRICE | $500 | $650 | $800 | $1,000 |
EMBED YOUR MESSAGE IN CONTENT
An inline text ad with a live link of your choice! Only one text ad will be offered in each edition of Design Line. Make sure that it is yours!
| | | | | |
| --- | --- | --- | --- | --- |
| AD RATES PER MONTH | 12x | 6x | 3x | 1x |
| PRICE | $700 | $900 | $1,100 | $1,300 |
AFS TARGETED DIGITAL ADVERTISING
Think Outside of the Inbox
If you're only targeting customers via email, you're missing an opportunity to reach them regularly.
With the modern office redefined, your brand can stay in front of customers wherever they venture – even if they're not in your database. .

Marketing that Hits the Mark
Targeted Digital Advertising from AFS uses the strength of our industry-leading magazines, Modern Casting and Casting Source, to identify a qualified audience of foundry pros from across the worldwide metalcasting supply chain.
Your brand goes where they go, bringing your message to their computers and mobile devices at a fraction of the cost of other web ad services.

Measure Your Success
Focus your ad delivery by keyword, location and more, and determine your brand's level of exposure over time. Whatever you choose, transparent metrics reporting lets you watch your investment pay off by tracking every part of your campaign's reach.
For more information, CLICK HERE.
PRESENT EXPOSURE
EXPOSURE
DOMINANT EXPOSURE
30,000
monthly impressions
50,000
monthly impressions
100,000
monthly impressions
INVESTMENT
INVESTMENT
INVESTMENT
$1,800 - 3 Months
$3,420 - 3 Months
$6,480 - 3 Months
$3,420 - 6 Months
$6,480 - 6 Months
$12,240 - 6 Months
$6,480 - 12 Months
$12,240 - 12 Months
$23,040 - 12 Months
ARTICLE REPRINTS
If you've recently been the subject of an article in Casting Source, congratulations! You're a star of the metalcasting community. Now you can preserve your article and share it with friends, employees, and customers. Our turnkey article reprint program packages your article and advertising into a reader-friendly 4- to 12-page brochure and includes a minimum of 500 printed copies for your use. Also included are all licensing fees, allowing complete and unfettered use of our content. Additional distribution opportunities, such as targeted direct mail or co-mailing with an issue of Casting Source, can be packaged upon request.

BASE RATE:
$1290
SPONSORED WEBINARS
A sponsored webinar is one of the strongest lead generation tools available to manufacturers. Registrants voluntarily provide detailed contact information in return for the opportunity to view a presentation on a topic of your choice. A dynamic webinar presentation not only establishes you as a key expert in the field, but can also be used continually across different platforms.

Promotions for webinar presentations are distributed in the Casting Source database through available online channels for 3–4 weeks prior to the presentation date. (In-print promotion can be added at your discretion.) In addition, all administrative and technical needs for the staging of the webinar are handled by Casting Source staff. Finally, shortly after the live presentation, the data collected on all registrants is provided to the sponsor.

As sponsored webinars are considered co-branded content, your topic and presentation will also receive the benefit of review and feedback from the Casting Source editorial staff.

ORDER DEADLINE:
6 weeks prior to scheduled presentation.
| | |
| --- | --- |
| REGISTRANTS | PRICE |
| 75+ | $7,500 |
| 50–74 | $5,000 |
If registration falls short of 50, the webinar will be rescheduled or reconsidered.

Sponsored webinar topic and presentation content is subject to final approval by Casting Source staff.
EMAIL BLAST PROGRAM
Email blasts are an excellent way to target segments of the Casting Source readership. Your customized program includes list fees and all administrative costs. Outsourced HTML design services can also be included on request. Database is not available for purchase—all email blasts must be administered in-house by Casting Source staff.

2,000 ADDRESSES OR FEWER: $1,500
3,000 ADDRESSES: $2,000
4,000 ADDRESSES: $2,300
5,000 ADDRESSES: $2,500
DIRECT MAIL PROGRAM
Direct mail places tangible information in your customers' hands. Your customized program includes list fees and all sorting and handling costs, as well as postage. Outsource design and printing services also can be included on request. Database is not available for purchase—direct mail programs are administered in-house by Casting Source staff. For a list of targeting parameters and a custom quote, contact your representative.

MINIMUM NET TOTAL BILLING: $2,000
5,000 ADDRESSES OR FEWER: $ 0.40 PER ADDRESS
MORE THAN 5,000 ADDRESSES: $ 0.30 PER ADDRESS

Postage and handling fees also apply; quoted individually
Turnkey design-print-deliver programs available – contact your rep for a quote
ANNUAL CASTING SOURCE DIRECTORY
Published in June in print and online, the Casting Source Directory is a well-used and much-anticipated resource for casting buyers and designers. It contains useful general information about the industry, including tips on how to buy and design castings. In addition, the CSD features comprehensive listings of all AFS Corporate Member metalcasters, indexed by location, metals cast and processes used.

All foundries are eligible to purchase display advertisements in the Casting Source Directory, but only AFS Corporate Members are allowed to place adlets withing the directory portion of the issue.

The CSD is distributed free of charge to the entire Casting Source audience. In addition, it is made available at industry trade shows and can be purchased through the publications division on the AFS website.

Pricing for ads is the same as for regular Casting Source advertisements. Please see the above advertising pricing and specifications pdf for more details.
METALCASTER PROSPECTUS
WHAT IS IT? The Metalcaster Prospectus consists of full-page corporate profiles of North America's leading metalcasters. This unique publication provides you the opportunity to inform your customers and prospects about your company's history, experience, people and productivity.

HOW IS IT DISTRIBUTED?
Included with March/April issue of Casting Source
On show floor at Cast in North America 2021
Other notable North American trade shows in 2021
Digital edition available worldwide starting in mid-March

HOW DO I PARTICIPATE?
Simply provide us with the following information:
A maximum of 350 words of descriptive copy. Logical topics include: brief company history, service capabilities, partial customer list, markets served, sales information, success stories/brief case studies. Samples available upon request. Company mission statement
A photo of your CEO/President (optional)
An "action photo" from your facility
Your logo
WHAT DOES IT COST?
Profile Only: $2,760
Profile + Full Page Ad: $3,950
CAST IN NORTH AMERICA
There is only one show in the world catering specifically to buyers and designers of metal castings. That show is Cast in North America, and if you value "face time" with your prospects, you should be an exhibitor. Cast in North America 2021 will be held in conjunction with the Metalcasting Congress, April 13-15, 2021 in Milwaukee, WI.

For complete details, visit www.afsinc.org.