The AFS/Casting Source Casting Competition is your chance to show the engineering and purchasing community what a metal casting can accomplish. Beyond the company recognition and industry public relations gained through the honored castings, all entries can appear in Casting Source magazine's departments. The 2021 winners will be showcased at the virtual Metalcasting Congress in April 2021, and in issues of Modern Casting and Casting Source.
Participation is open to all North American metalcasters and designers/users of metal castings. Previous entries may be resubmitted. Castings are sought in all metals, casting processes, end-use applications and sizes/weights. Click here for the entry form.
Independent judges will evaluate each entry on:
Benefits delivered to the casting customer.
Benefits delivered to the casting customer due to conversion from another process
The use of the casting process' unique capabilities.
Contribution to growth and expansion of the casting market.
This year, winners will be broken out into categories, with an all-around Casting of the Year winner still chosen.
The categories will be:
1.    Newcomer (Rookie of the Year)
This award will go to a company that has not submitted a casting in the last 10 years. Don't be intimidated to enter the contest and show your stuff.
2.    Best Example of a Casting Conversion
This award will recognize companies that used metalcasting's strengths to convert a product from a non-casting process.
3.    Achievement in a Small Foundry Business
Not every foundry has armies of staff. Smaller facilities are doing great work, and they are a key part of the industry. This will reward companies that are doing more with fewer workers.
4.    Best Innovation/Prototype
The metalcasting industry continues to evolve and stride into the future. That's partly because metalcasters are always stretching capabilities and looking for newer and better. This category is for castings that might not be ready for full production but could be the precursor to the next big thing.
The deadline has been extended to Feb. 26, 2021. Please complete the form (with any supplemental information) and send it, along with the casting, to:
Casting Competition'21
1695 N. Penny Ln.
Schaumburg, IL 60173-4555. 
The AFS Warehouse accepts deliveries between 10 a.m. and 4 p.m. Monday, Tuesday, Wednesday and Friday. If you have any questions, contact Shannon Wetzel at swetzel@afsinc.org or Casting Competition, 1695 N. Penny Lane, Schaumburg, IL 60173.
2020 COTY Winners
Two castings exhibited the strengths of the casting industry in different ways to be named winners of the 2020 AFS Casting Competition:
1) BRP-US, Inc. (Spruce Pine, North Carolina)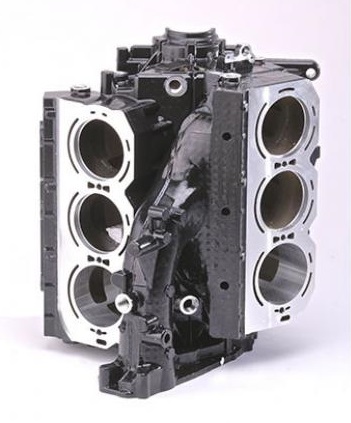 BRP Pushes Envelope of What Lost Foam Casting Can Do
At first, the senior process engineer at AFS Corporate Member BRP-US Inc. (Spruce Pine, North Carolina) didn't really want anything to do with the 300-HP V6 engine block for a marine outboard engine. The block was so large and complex, featring a water jacket which sequences cooling water through nine separate targeted passageways within the block, cylinder bores, and exhaust. It was not a simple tube within a tube water jacket design.
"When we looked at this part, I knew it would be a difficult part, and I didn't really want to sign off on it," said Willie Anglin, senior process engineer. "But now, five years later, it is running better than many of our other blocks. The truth is, I never thought we would see it run as well as we do." 
The two-stroke 300HP V-6 marine engine block called the G2 Snipe is cast in aluminum via the lost foam method. Nine foam tools are required to produce 15 individual foam patterns and the runner. The cast walls are as thin as 4mm for weight savings. Plus, rather than bolt a welded exhaust to the block, the engine designers wanted to incorporate those features into the single aluminum casting. READ MORE.
2) Lethbridge Iron Works Co. Ltd. (Lethbridge, Alberta, Canada)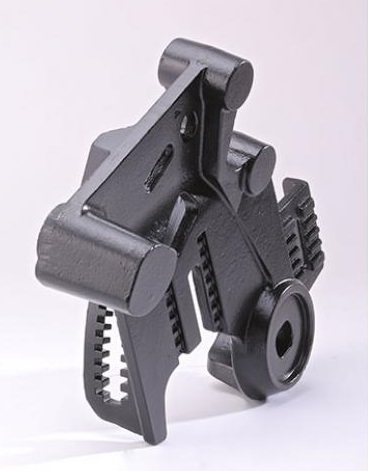 Casting Conversion Frees Up Customer's Internal Resources
The opener main body casting by Lethbridge Iron Works Co. was a textbook case for a casting conversion from a steel fabrication. The cast design reduced the part count from 12 to 1, reduced labor and equipment time for the customer, decreased overall cost, and improved the performance through increased strength and tighter tolerances.
"For the customer, what makes a good candidate for conversion is the ability to save both time and money," said Mark Mundell, director of sales, Lethbridge Iron Works. "Everything written about conversion is true. If you can make a casting out of a multiple piece component, it is going to provide for a cheaper, more consistent and repeatable part, and it will lean out the manufacturing process."
Some casting conversions are more challenging than others. In the case of the opener main body for a coulter seeding drill, the design included varying section thicknesses and several functioning features located on different planes. A zipper-shaped depth adjustment feature is cast perpendicular to the mold parting plane, with other features being located on the horizontal parting plane. READ MORE.
Other award winners:
NEWCOMER OF THE YEAR: Grapple Arm (Wabi Iron and Steel Corp.)
ACHIEVEMENT BY A SMALL FOUNDRY: Lift Wrench (LA Aluminum Casting Co.)
BEST CASTING CONVERSION: Rear Suspension Trailing Arm (Waupaca Foundry, Inc.)
BEST PROTOTYPE OR INNOVATION: Duplex Fuel Nozzle (Aristo-Cast Inc.)
Outstanding achievements:
Trip Arm (Dotson Iron Casting)
Snowmobile Front Bumper (Powercast Manufacturing Co.)
Pump Housing (O'Fallon Casting)
Magnesium Strut Tower Brace (Meridian Lightweight Technologies Inc./Ford Motor Co.)
Click here for a full photo gallery of the COTY 2020 winners.