‹ Back to Columns
Ensuring Quality
Julia Scruton's business card says she's a metallurgist/project engineer for Baker Manufacturing Co. (Evansville, Wisconsin). But that's just part of the story. "When people ask me what I do, I normally say metallurgical engineer/whatever-else-they-want-me-to-do," Scruton said. "Baker is relatively small, so I have pretty broad responsibilities and I get to do a lot of different things."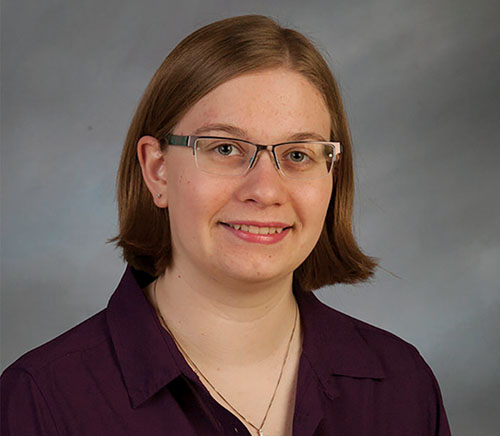 The Michigan Technological University graduate has worked for Baker since January 2019. Before that, she was hard at work at MTU, earning a bachelor's degree in materials science and engineering in 2017 and a master's in the same field the following year. She handles process improvement, simulation modeling and other key duties at Baker Casting, a gray and ductile iron foundry that produces custom castings for a variety of markets including agricultural, construction, and industrial equipment. The foundry also casts all kinds of components for its parent company, Baker Manufacturing, a leading manufacturer of rotary gear pumps, as well as residential and commercial water systems­—your local park might sport one of its iconic green Monitor hand water pumps. 
"A lot of people who work in foundries are really passionate about the industry," Scruton said. "It's not just a job." Here, Scruton discusses her passion for "shiny, molten metal" and how her work ensures quality at the foundry.
Casting Source: Why did you choose a foundry career, and what do you like about your job?
Scruton: I did four internships in the foundry industry, so I had some idea of what I liked and didn't like. I found that I liked doing metallurgy, simulation modeling/casting system work, processing improvements (scrap reductions), and sand in small doses. I think the foundry process is really fun because you're making things from scratch that look like a recognizable component; it's not like making steel slabs.
I'm one of those people who has a hard time just focusing on one thing—when I get frustrated, I like to walk away and deal with something else. My job at Baker is nice in that aspect, because I have a lot of different projects that I will be working on in one day, and I'm not just running melt or doing technical services or running the lab. I get to do it all. 
Casting Source: What is a typical workday like for you?
Scruton: I support both shifts, so on a normal day, I get in about 2 hours into the production day. I check in with the lab to see if they need anything or if there are any parts with special requirements that they need help with. I help sales quote new work—I'll look at the part and run some solidification simulations as well as look at geometry to let them know if they should quote it.
I'll normally have a couple of process improvement projects that I'm working on, such as with the sand system or an alloy that I'm looking at. In the afternoon, I typically work with the foundry engineer on the jobs that we are doing test runs on, and I update the parts' bills of operations (BOOs) and bills of materials (BOMs) based on successful test runs. I typically complete material certifications in the afternoon. 
Casting Source:  How do you help to ensure the quality of your company's products?
Scruton: I keep an eye on metal quality, and I work to improve our process to reduce scrap. I perform simulation modeling of the casting process to have us more effectively remove porosity from castings. If it's an austempered ductile iron part, I work with our heat treater to ensure we use a good chemistry for proper hardenability. I work with the quality department to understand and fix any issues that a customer might have with a particular part. I also work with our foundry engineer to improve parts through our trial process, and I enter the data into our enterprise resource planning (ERP) system. 
Casting Source: What is something about metallurgy or the casting process that would surprise people?
Scruton: A lot of people don't realize that cast iron grades are not based on chemistry, but on mechanical properties. Every foundry is going to be using a slightly different recipe for the same grade, so the process of inoculation is very important. 
I think right now, a lot of OEMs are really focused on light weighting, and so they rule out cast iron. But cast iron has advanced a lot in the last 40 years, especially with austempered ductile iron (which has a post-process heat treatment), solid solution ferritic ductile iron (which is not strengthened by pearlite but by solid solution strengthening at an atomic level), and compacted graphite iron (which has a very controlled specific lower nodularity). Austempered ductile iron can be a better option in some applications, because iron is very castable and it has very good strength-to-density ratio. It can outperform steel and aluminum in certain applications and it's extremely wear-resistant. 
Materials like compacted graphite iron and solid solution ferritic ductile iron also have some very promising applications: CGI because it has some of the good properties of both ductile iron and graphite iron and is a fantastic engine material, and SSFDI because it has a really good yield-to-tensile ratio and higher elongation for a given strength compared to traditional iron. This allows for a more light weighted part, and the density is slightly lower than traditional ductile iron. 
Not one material is perfect for every application, but cast iron can be the best in some applications, because it is relatively cheap to produce and has very good properties—especially these newer varieties.  CS
Click here to see this story as it appears in the March/April 2020 issue of Casting Source.