Stefanescu traces history of cast iron in Hoyt Lecture
ATLANTA – Dr. Doru Stefanescu has accomplished a lot during his career. Yet, delivering the Hoyt Memorial Lecture clearly meant something to him.
"It's an extraordinary honor. It's something that makes me humble, because if you look at the previous speakers, it's a kind of who's who in metalcasting," Stefanescu said. "To receive such an honor is something very special. I'm very grateful to the selection committee, that they picked me."
Stefanescu's speech "The Meritocratic Ascendance of Cast Iron from Magic to Virtual Cast Iron" traced the history of the metal and outlined ways it can remain relevant for the future. And it was clear Stefanescu relished the chance to deliver his speech on a topic that is central to his career.
"It's a lecture where the invited speaker has a chance to give his thoughts on a number of issues affecting metalcasting, but not exactly technical," he said. "That's what makes it special."
Stefanescu is faculty emeritus at Ohio State University and University of Alabama.
Cut A Check
During a ceremony Sunday morning, Air Products (Allentown, Pennsylvania) presented a $15,000 donation to the AFS Institute. AFS CEO Doug Kurkul and vice president of education and workforce development Clarence Trowbridge accepted the oversized check from Russell Hewertson, the Air Products manager of commercial technology.
"Air Products supporting the Institute is really aimed at getting young people interested in the industry," Hewertson said. "We see the importance of manufacturing and the exciting opportunities with all the innovation in the industry. We want to make sure that people understand at a young age, there are opportunities available in this industry – metalcasting, metal processing, those types of manufacturing industries that are important to the U.S."
Trowbridge said the donation and show-floor presentation can set an example.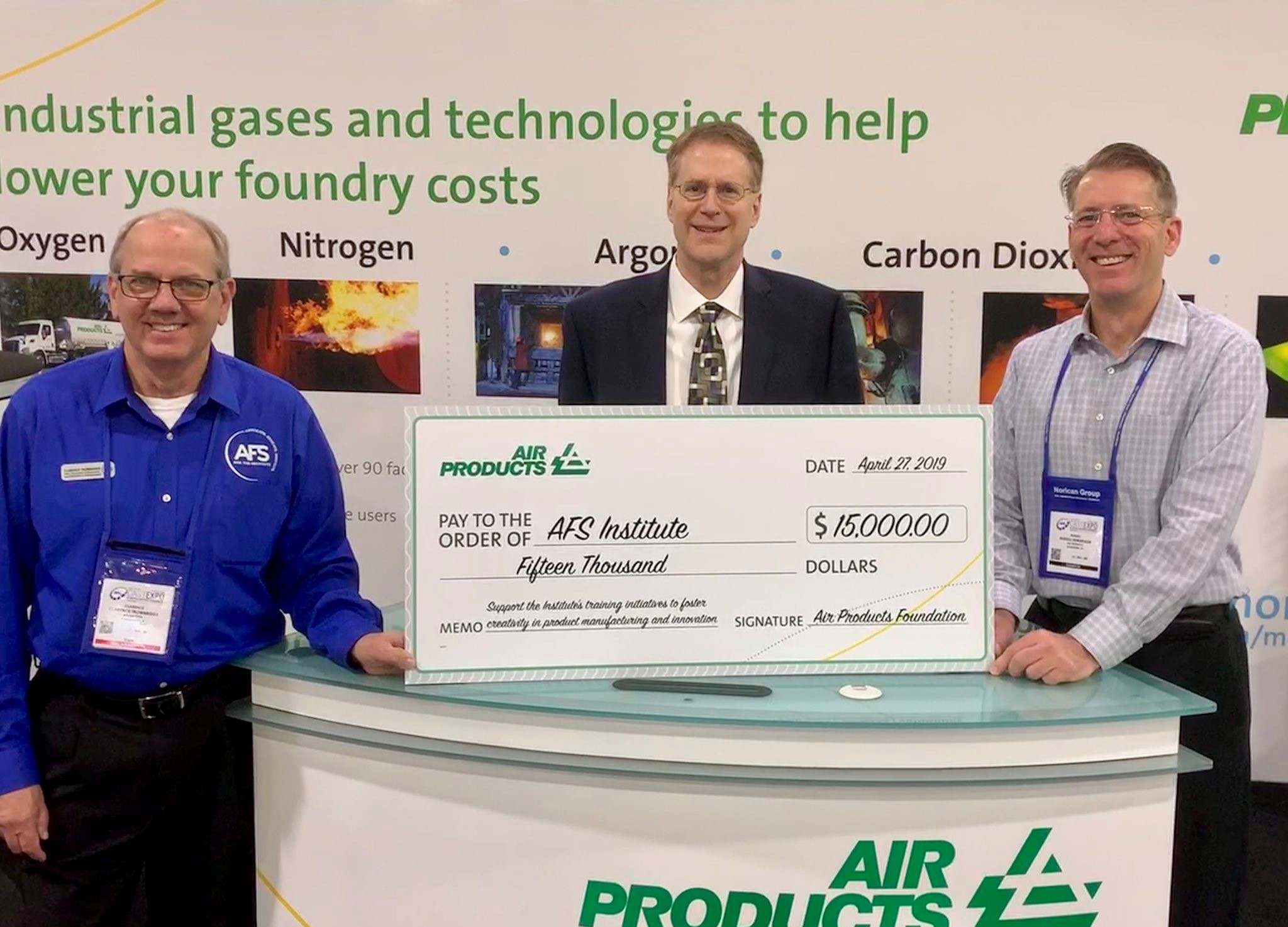 "It sets a bar for other people to see and emulate and see there is growth and opportunities here and there's things they can do to support the metalcasting industry," Trowbridge said, "especially for their employees and the industry."
Taking the Honors
On Sunday, many of the standouts of the metalcasting industry were honored.
Kathy Hayrynen of Applied Process Inc. was given the Women in Metalcasting Award of Excellence. The initial presentation came at Sunday's Women in Metalcasting breakfast.
Later in the day, AFS held the Division Recognition Luncheon. The Howard F. Taylor Award, presented to the author of the technical paper with the longest-lasting impact on the metalcasting industry, went to Richard Gundlach for his work "Influence of MN & S On The Microstructure Of Cast Iron."
Thomas Mueller was honored with the Ray H. Witt Management Award, which was established to recognize authors of an AFS management or marketing-oriented paper that exhibits the greatest probability of favorably impacting the metalcasting industry. Mueller's paper was named "What Impact Will 3D Metal Printing Have On Investment Casting."
On Sunday night, Von L. Richards will receive the Thomas W. Pangborn Gold Medal.
You Can Catch Him
Frank Abagnale, one of history's most infamous and successful conmen, will speak at 10:30 a.m. Monday.
Portrayed by Leonardo DiCaprio in the 2002 biographical film Catch Me If You Can, Abagnale was once the world's most well-known swindler. Abagnale falsely assumed the identities of an airline pilot, a physician, a U.S. Bureau of Prisons agent, and a lawyer. After his capture and release from prison, Abagnale turned the tables on fraudsters, spending over 40 years advising financial institutions, corporations, and government agencies around the world.
Abagnale has conducted more than 3,000 seminars on identity theft, cybercrime, and fraud worldwide. He lectures extensively at the FBI Academy and in FBI field offices. Today, more than 14,000 financial institutions, corporations, and law enforcement agencies use his fraud prevention programs.