‹ Back to Columns
4 Ways to Coordinate Your Supply Chain
The metalcasting industry is diverse, ranging from small operations focusing on low-volume specialty parts to large establishments producing thousands of tons per year. However, most foundries are small-to-medium businesses (SMBs), and over half of the industry's total annual production is by facilities that have 500 or fewer production employees.
Small-to-medium foundries tend to be job shops with specialized equipment suited to particular alloys, sizes and volumes for a target market. In addition, smaller foundries typically offer either a broad range of parts to small customer bases or produce limited part numbers for a large group of customers.
Because of their smaller size, SMBs are often more susceptible to market downturns and face economies of scale disadvantages. Thus, it's critical that your SMB supply chains continuously innovate to produce superior casting solutions, and that your company has product launch plans amenable to your supply chain's capabilities.
1: Create a Plan for Every Part
A Plan for Every Part, when implemented as part of a company's lean strategy, will accelerate program launch timelines by as much as 33% and reduce launch risk by as much as 25%.  
Working with your foundry supplier on creating a Plan for Every Part enables organizations to map roughly 120 commercial data inputs to calculate more accurate prototype build dates, part true costs, and production launch risks.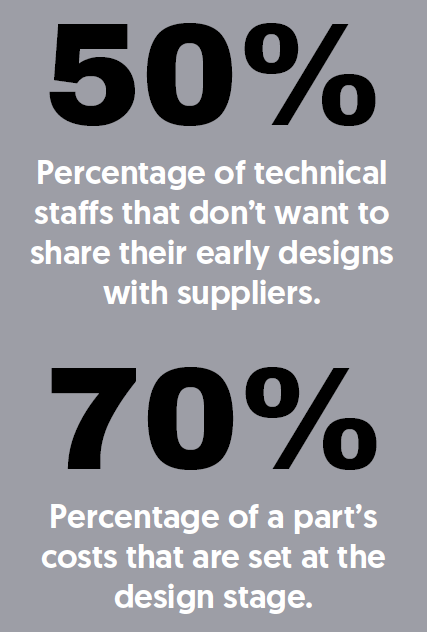 Then, once a part is launched, the plan is used to manage and optimize maximum inventory costs, inbound logistics costs, and part change costs.  A Plan for Every Part is invaluable because it serves as the foundation for short-term launch and long-term operations.
2. Involve the Supply Chain Earlier
As your supply chain team realizes more success leveraging its plan, involve everyone earlier in the new part development process. Typically, engineering teams struggle to address commercial challenges with suppliers early on when developing and quoting parts.
In a recent IndustryStar research study, 50% of technical staffs said they are unwilling to share early designs with suppliers—contradicting most of the same respondents who said they trusted their suppliers.
This disconnect is because engineering and purchasing teams tend to speak different languages, which slows collaboration. Plan for Every Part can act as your common company playbook to accelerate both communication and execution.
As Mahendra Hundal, PhD, Emeritus Professor at the University of Vermont, said as far back as 1993, over 70% of part costs are frozen during design.
3. Automate Processes
One of the surprisingly simple tactics innovative companies deploy is software that increases the pace of manual processes.
"The key to successfully deploying supply chain software is to take the technology off a pedestal. Software is simply a tool to do a job faster and better," says Sime Curkovic PhD, Valluzzo Faculty Fellow, and Professor of Supply Chain Management, at Western Michigan University.
To become world-class at launching new parts, you need to accelerate how your team manages, executes and reports their work. Often, early new part supply chain work is done on manual equipment, usually Microsoft Excel. Speed your time to market with automated software to view, digest and share information real time.
4. Leverage Managed Services to Lower Fixed Costs
Managed services firms combine business process outsourcing (BPO) people and process model with cloud and artificial intelligence software to lower costs.
The result of this model is fixed costs can be reduced by as much as 50%. Managed services firms can support day-to-day supply chain operations or select subfunctions, e.g. procurement, supplier quality or logistics.
Supply chain is evolving rapidly and, when used strategically, can be the element to stack the deck in your favor. Developing and fostering a world class supply chain team, processes and systems can enable you to compete and win globally.   
Click here to see this story as it appears in the January/February 2020 issue of Casting Source.