‹ Back to Columns
The More You Know, the Better You Are
Casting Source magazine is for three main categories in the metalcasting supply chain. Those who specify that a part should be foundry-made, designers and engineers of the specified part, and purchasing agents. The more each of them knows, the better decisions they make. That's where your choice of continuing education comes in.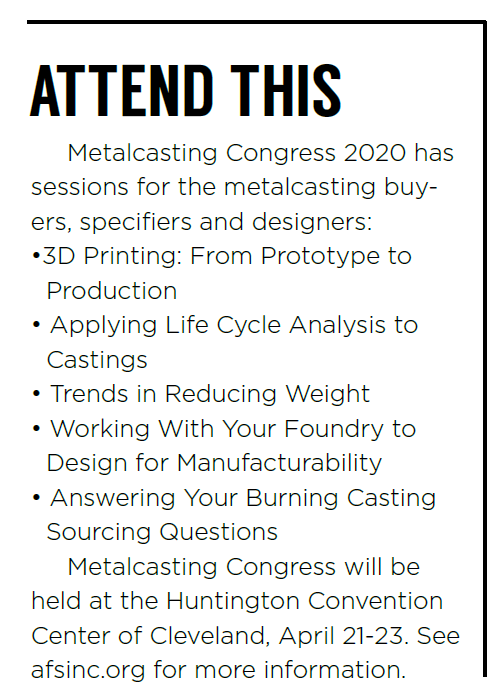 You know you must have the best manufacturing inputs you can get. You know you need to maintain pace with what your competitors are learning about obtaining the best inputs. You know that you and your fellow design engineers and buyers are seeking the same advantages you are.
You need continuing professional development, whether it's in a classroom, conveniently on-demand, or reading (for reading, I recommend Casting Source magazine, but since you're reading this, you already know that).
Mastering the information you need for great decision-making is a career-long journey of learning. That's why the publisher of Casting Source magazine, the American Foundry Society, offers top-drawer educational opportunities for designers and buyers of cast products, in the classroom and on-demand.
The AFS Institute can start you today on expertly designed e-Learning modules. These are superbly convenient on-demand courses for the metalcasting supply chain, all of which can be found online (www.afsinc.org/e-learning).
These can be engaged conveniently anytime, anywhere, on your laptop or mobile device. The literature on education tells us that many students—and shouldn't we all be students of our profession?—can learn in short bursts, and the Institute's e-Learning program will meet you where you have five minutes here and ten minutes there.
The Institute's e-Learning courses can be used on a mobile device. That's the kind of flexibility most of us value.
The Institute also offers in-class courses for a traditional, instructor-led experience (www.afsinc.org/instructor-led-training).
Better trained supply chain employees design and procure better parts. Better parts make better completed products. Better finished goods make everyone in the supply chain look better, because they are better. Our learning options will make you better at your job.  
Whatever your reason is to continuously learn and improve, Casting Source and the Institute are here to help. Contact us. 
Click here to see this story as it appears in the January/February 2020 issue of Casting Source.