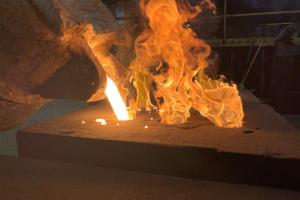 Midwest Metal Products, Inc (MMP) is an ISO9001:2015 certified casting solutions provider for most Ferrous grades, including Stainless, Carbon & Low Alloy Steels, Chrome Iron, Ni-Hard, Ductile Iron, and Gray Iron. We have great flexibility in part size and shape, casting parts up to 1100lbs in steels and 1500lbs in irons. If desired, we provide fully finished parts – machined and/or painted. We use highly capable simulation tech to design our patterns and feeding systems to maximize the product quality while minimizing costs.
This MMP video was featured on the Lou Dobbs program as presented by Manufacturing Marvels giving an overview of MMP's operation.
We are an Intelligent, Diligent, client-focused operation, looking forward to working with you.