‹ Back to Columns
Reshoring: A Corporate Decision-Making Shift
In 2018, reshoring and foreign direct investment (FDI) job announcements reached the second highest annual rate in history, bringing over 757,000 total jobs to the U.S. from offshore since the manufacturing employment low of 2010. This steady stream of jobs has driven 31% of the total increase in U.S. manufacturing jobs during that period and 3.3% of total manufacturing employment of 12.8 million. The strength of the upswing demonstrates a tangible shift in corporate decision-making that is likely to extend the trend of reshoring and localization into the future.
Companies Considering U.S. Manufacturing/Sourcing
About 60% of companies decide to offshore based on comparing wage rates, ex-works prices or landed costs, often resulting in a 15-30% understatement of true offshoring costs. Rising Chinese wages, increased U.S. competitiveness, and the ongoing trade dispute have been influencing more companies to consider U.S. manufacturing. The Total Cost of Ownership (TCO) Estimator, a free online tool, guides companies through a comprehensive system for recognizing and quantifying all of the costs associated with offshoring and reshoring. The Reshoring Initiative has reached the following conclusions by quantifying the data from our Reshoring Library and the Total Cost Of Ownership Estimator user databases.
A combination of accumulated offshore experience and offshore costs rising relative to domestic costs has driven companies to reevaluate their offshoring decisions.
Approximately 25% of the offshore work would have a lower total cost if sourced domestically. Use of TCO can justify reshoring some work, but far from all.
Decisions to reshore manufacturing operations, as compared to decisions to offshore, appear to incorporate a wider range of factors, many of which can be difficult to quantify without a standardized tool such as the TCO Estimator. Collectively, these costs are known as the "hidden costs." When added to ex-works price, they equal TCO (Total Cost of Ownership).
China's Challenges
China, the main competitor and leading cause of U.S. manufacturing stagnation, has unprecedented challenges in rising wages, population, environment, and safety. Chinese manufacturing costs have increased substantially, mostly driven by wage rates rising 10-15% per year, which is well above their rate of productivity improvement. These wage rates are driven by a population that is dropping by millions per year due to the one-child policy.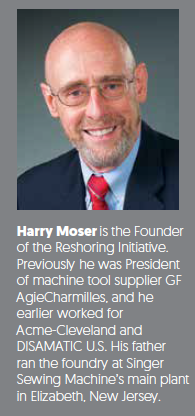 China's shrinking population will reach negative growth as early as 2030, resulting in slower workforce growth. Reports by the China Academy of Social Science anticipate China's population will peak in 2029 at 1.4 billion then steadily decline. Further aggravating the problem is a growing elderly population that is expected to rise from 194 million in 2012 to 300 million by 2025.
China Environmental and Safety Concerns
China is the world's largest emitter of greenhouse gases, with 70% of Chinese companies violating pollution rules and about 14,000 companies that failed environmental standards in 2017. Safety concerns are also on the rise. In 2015, China accounted for 2,124 product recall cases in the U.S.
China's quagmire increases the probability that a serious U.S. effort in competitiveness initiatives i.e. workforce training, technology adoption, currency, etc. will succeed.
Factors Favoring the U.S.  
U.S. consumer expectations of immediate product delivery, e.g. Amazon Prime, give the local-for-local business model an advantage in flexibility, agility, fast delivery, customization and carrying costs of inventory. Long lead times from far-flung supply chains result in stockouts and overstocks. U.S. retail losses from both circumstances are estimated to be $250 billion per year. Proximity to customers/market ranked No. 2 in factors influencing reshoring and FDI (2010-2018).
Vermont-based Hubbardton Forge, a manufacturer of high-end decorative lighting fixtures, reshored some diecast sourcing from China to the U.S. They consider the ability to offer customization to customers due to close proximity a major advantage. Delivery for standard orders is about four weeks but they can turn orders around in just three business days if needed. "We're able to turn an idea into a finished product, all right here in Vermont," said Jeanne-Marie Gand, VP of marketing.
Sourcing Shift
China is the source of 20% of our imports and 59% of reshoring. Globalization is slowing due to the increased developed country competitiveness gained by digitization and higher offshore labor costs. International trade costs are increasing because of lengthy supply chains, trade barriers and environmental initiatives.
Trade war uncertainty and tariffs are causing many companies to exit China for low-cost South Asian countries. But these suppliers are struggling to meet the huge onslaught of demand with insufficient resources, underdeveloped infrastructure and ecosystems, and skilled labor shortages. The sourcing shift has deteriorated South Asia product quality. According to the QIMA 2019 Barometer, inspection failure rates escalated in Q2 2019 to 33% in India, 37% in Pakistan, and 40% in Cambodia, compared to more mature markets like China (25%). Companies that find it necessary to leave some parts in China that can't be made elsewhere discover that fragmented cross-border supply chains are even more costly than Chinese ecosystems.
As companies experience these problems and rapid wage inflation due to small workforces, they will be forced to shift work again in a few years to India and then Africa. In many cases it is more profitable and sustainable to shift to the U.S. now.
Better-informed Decision-making
Determine which sources best meet your company's profitability and strategic objectives. The non-profit Reshoring Initiative's tools and data can help companies make better sourcing decisions and sell against imports. Please visit www.reshorenow.org or email or call the Reshoring Initiative for advice at Info@reshorenow.org or 847-867-1144.  
Click here to see this story as it appears in the November/December 2019 issue of Casting Source.