‹ Back to Columns
Supply Chain Relationships
Jordan Brown, of BCI Solutions (Bremen, Indiana), is a familiar face in the metalcasting industry—not just through her work at BCI (where she is the fifth generation of the Brown family to be part of BCI) but also as active member of AFS where she serves on the steering committee of Future Leaders in Metalcasting. Brown got her start at BCI as sales manager, then operations manager; with a promotion this summer, now her scope of responsibilities has expanded in her newest role as vice president, where she will help continue BCI's legacy of innovation. Casting Source caught up with Brown to talk about her new role and her thoughts on how customers and casting suppliers can work together to meet ever-changing market demands.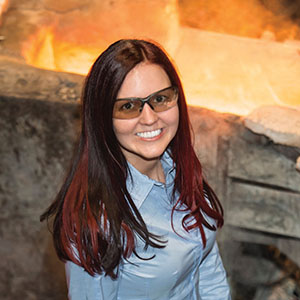 Casting Source: What is your background in your path to your current position of VP at BCI? 
Jordan Brown: While I was attending Indiana University, I worked in various capacities during school breaks at BCI. After graduation, I started in sales as the inside sales manager, leading that team. I transferred into the role of operations manager, in which I learned all departments, leading to my current position as vice president. 
 
Casting Source: What's your favorite part of your job?  
Brown: Every day is different, and you get to work with a lot of great people, whether it is customers, suppliers, or our team here internally. I enjoy that it is an ongoing learning experience, learning something new every day. 
  
Casting Source: How has BCI adapted to market/customer demands? 
Brown: BCI has always strived to be ever changing, embracing our Status Quo Sucks ideology of continuous improvement. We offer our customers complete manufactured solutions. We are a foundry; however, we rebranded in early 2020 to reflect the fact that we also have a full machine shop, assembly shop, and a tooling division to support our foundry and machine shop. This allows us to take care of our customers regardless of the material or manufacturing methodology of the part. 
 
Casting Source: What are ways BCI builds relationships with its customers? 
Brown: We value true partnerships with our customers. We get to know them, understand their needs, how they work and build off of that, so it is a win-win for everyone involved. We want our customers to feel appreciated and know that BCI is here for them. We ensure each employee understands not only our Quality Policy, but our Core Values, as well, to be certain our customers receive the highest quality product and service. 
 
Casting Source: What should casting buyers know or understand about the metalcasting industry to help them have better results in cost effectiveness, delivery times, quotes, etc.
Brown: Buyers should know what we do is not easy, so involving us early in the process allows team effort and collaboration to make sure a part is manufacturable in a cost-efficient manner. Additionally, when involved upfront, we can start simulations and the use of other technologies that are available earlier and work to get a new part right the first time, decreasing lead times and cost. 
 
Casting Source: Any other thoughts on things you wish prospective buyers knew when they send in an RFQ or work with your foundry, in general? 
Brown: Having all the information available on the RFQ will make for a quicker submission turnaround and a more accurate quote upfront. As a buyer, knowing your supplier's capabilities and being able to play to their strengths will help in the process and compare apples to apples when the quotes come back.   CS