‹ Back to Columns
Metalcasting and the Emerging Trends in Reshoring
Global supply chain disruption resulting from the COVID-19 pandemic is expected to continue well into 2022. Component and raw material shortages are derailing production and soaring freight rates may take more than two years to return to normal levels, all amidst growing tensions with China. Resiliency is the new strategy that is shaping the future of supply chains. Companies are increasingly understanding the costs and risks of extended global supply chains and are shifting supply chains from far offshore to the U.S. (reshoring) and neighboring countries (nearshoring). Explore these emerging trends in reshoring when you join me at CastExpo 2022 in my session on reshoring on Sunday, April 24 at 2:45 p.m. Register at www.castexpo.com. 
Manufacturing Is Coming Home
Reshoring Initiative data (www.reshorenow.org) shows that reshoring and foreign direct investment (FDI) job announcements for 2021 are over 220,000—38% above an excellent 2020 and, by far, the highest yearly number recorded to date. The number of companies reporting new reshoring and FDI is also set for a new annual record: 1,800+ companies. Manufacturing employment is 3 million higher than would have been predicted just 13 years ago. 
Use TCO, Not Price, for Sourcing Decisions 
Companies are reconsidering their sources of castings for existing assembly and shifting assembly to the U.S. Making sourcing decisions based solely on price often results in a 15% to 25% understatement of offshoring costs. Total cost of ownership (TCO) analysis helps companies objectively quantify, forecast, and minimize total cost. It takes into account the FOB (free on board)price plus 28 additional costs and risks. Use of TCO breaks down internal silos, making the impacts on sales, inventory, warranty, and engineering relevant to the sourcing decision. Our mission is to help you and your customers re-evaluate offshoring versus domestic sourcing and make the right decisions. If you use TCO, some of those decisions will favor reshoring.
How to Buy or Sell  Castings Using TCO
The TCO Estimator is the Reshoring Initiative's online tool that helps companies account for all relevant factors—overhead, balance sheet, risks, corporate strategy, and other external and internal business considerations—to determine the true total cost. TCO analysis considers freight and duty; travel expense and time; inventory carrying cost; warranty; IP loss; impact on product innovation from having manufacturing distant from engineering; and the losses from stock-outs due to long delivery times. TCO also quantifies many other factors, such as those associated with the risk of supply chain shocks or disruptions caused by natural disasters, political unrest, or even pandemic. It also helps to forecast the impact of future wage and currency changes. Using this information, companies can better evaluate sourcing, identify alternatives, and even make a case when selling against offshore competitors.
The Metrics of TCO
About 60% of companies make import decisions based on price instead of TCO. In Figure 1, the percentage of the cases the U.S. wins increases from 8% based on price, to 32% based on TCO to 46% if a 15% tariff applies. One company used TCO to win a $60 million order versus a lower-priced Chinese competitor.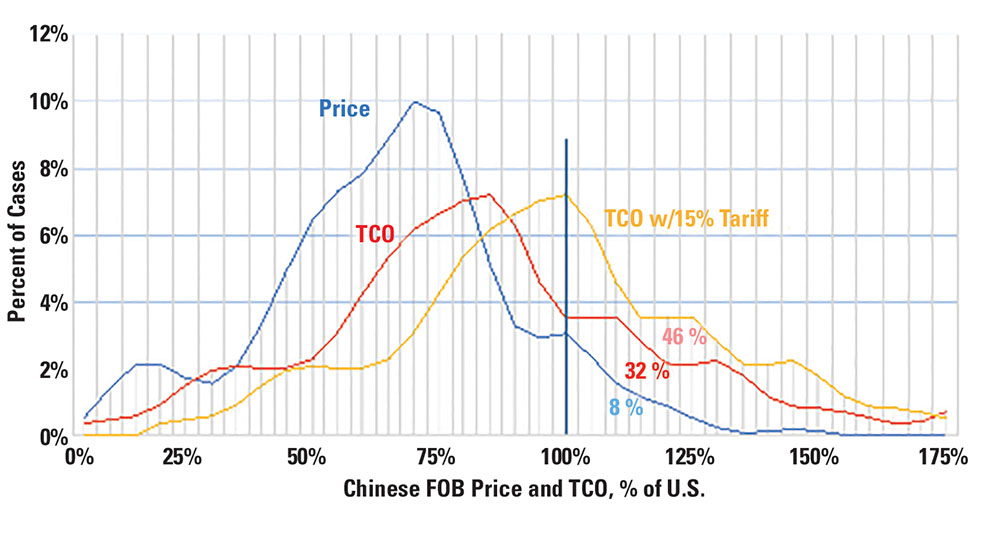 Real-World Cases
General Motors is investing $51 million in its aluminum diecasting facility in Bedford, Indiana, to support production of drive unit castings for the Chevrolet Silverado EV and other current products. 
Toyota West Virginia (TMMWV) recently announced a $240 million investment to add a production line of hybrid transaxles. "This project is more than just a new product. It demonstrates the need for TMMWV and our path forward as we increase our powertrain capabilities to better support Toyota Motor North America's growing manufacturing footprint by building vehicles where we sell," said Srini Matam, president of TMMWV. 
Acme Alliance LLC, a leading diecaster in Northbrook, Illinois, received the 2021 National Metalworking Reshoring Award in recognition of its success in bringing manufacturing back to the U.S. Acme Alliance was chosen for its record of reshoring products for its customers. In one case, its reshoring fixed a quality problem and cut the customer's inventory by 94%. Acme also has successful facilities in Brazil and China. By not shipping from those facilities to the U.S., Acme has proven that reshoring is not only possible but the right business choice. To submit an application for the 2022 National Metalworking Reshoring Award, visit www.amtonline.org/article/reshoring-award.  CS
Questions can be directed to Harry Moser at (847) 867-1144 or harry.moser@reshorenow.org.